Chinese New Year is just around the corner, Banyan Tree Hotels & Resorts present a series of holiday offers filled with authentic destination experiences, gourmet menus, premium accommodation and plenty of fun activities, creating festive and joyous Lunar New Year getaways at various inspiring locations.
Traditional Festivities in Bustling Metropolis
As traditions and customs become increasingly important in recent years, the metropolitans are brimming with joyful festivities during the Lunar New Year. While many time-honoured traditional rituals are taking the centre stage, new activities integrating new trends and technologies have also been gaining popularity, offering both old and new ways of celebrating the blessings of spring.
Macau still observes many unique regional customs, one of the most important local New Year traditions is honouring the Chinese goddess Mazu, and the best place to do that is at the Temple of Matsu, one of the eight famous views of Macau. After praying for Matsu's blessing, explore the surrounding neighborhood and have fun shopping New Year specialties and gifts. Other festivities unique to the city include: the Chinese New Year's Day Dragon and Lion Dance performance and spectaculars parade that continues until the 9th.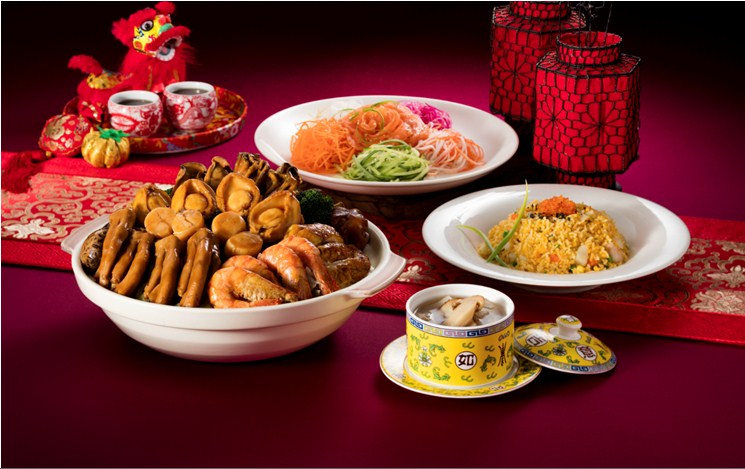 Banyan Tree Macau offers various Spring Festival dining packages including of the five-course Cabana Big Bowl Feast that allows diners to indulge in internationally sourced ingredients in a private poolside Cabana; Belon "Bountiful Reunion" menu featuring epicurean seafood and grill delicacies and Saffron Auspicious Delights menu offering authentic Thai favourites.  For an even more luxurious getaway, guests can also immerse in the Golden Indulgence Spa Treatment ataward winning Banyan Tree Spa Macau, or enjoy shopping home amenities at the Banyan Tree Gallery and be rewarded with gift coupons for every purchase.
Spring Festival celebrations in chic and stylish Shanghai include lively temple fairs where one can revel in the energy and creativity of this fascinating city. Shanghai Happy Valley amusement park will stage the Spring Festival Carnival for 15 consecutive days beginning with the first day of the Lunar New Year,  featuring activities and performances including the Grand Lantern Display and Light Show, Romantic Snow Town, traditional cultural performances, international comedy show and a gourmet Temple Street. Shanghai Disneyland will also welcome the Year of the Dog with authentic Chinese adornments and vibrant Spring Festival Fair full of festive fun.
Book the Staycation with a minimum stay of 5 nights during the Chinese New Year at Banyan Tree Shanghai On The Bund and enjoy daily breakfast for 2 at Oceans restaurant, 25% off for F&B and 15% off for laundry service (free laundry for one T-shirt).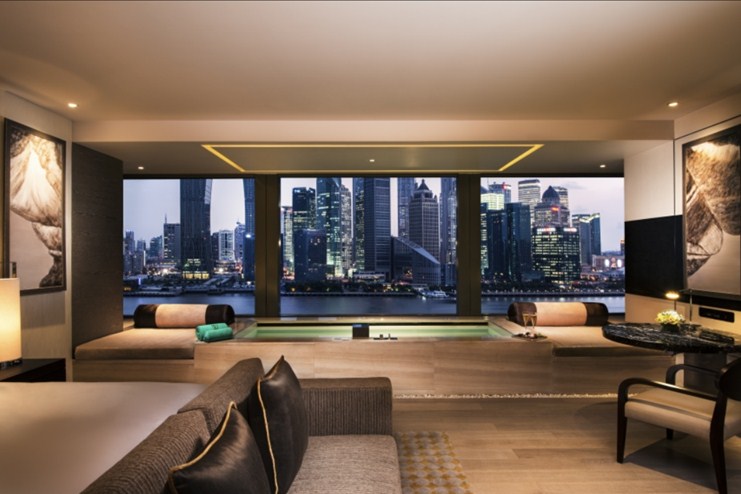 Celebration with Unique Cultural Customs
Famous for its ethnic diversity, Yunnan is the best destination to experience different cultural customs. Chinese New Year celebrations here share similar traditions with inland Chinese cities, but also have its own atmosphere and flavors.
A proper Chinese New Year in Lijiang is celebrated with local street fairs, home decoration with freshly cut flowers and couplets, as well as an indulgent reunion dinner. Shop like a local at the Zhongyi Market packed with food, gifts and decorations, don't forget to pick up a bunch of freshly-cut Camellia flowers to brighten up your room with this age-old tradition. Marvel at the couplets written with Dongba text before starting the New Year's Eve reunion dinner. Carefully prepared by Banyan Tree Lijiang, the menu includes traditional salted pork rib and organic chicken hotpot, paired with seasonal organic vegetables from the hotel's garden, wild mushrooms and hand-made fish balls, initiating the New Year with exquisite culinary delights.
Chinese New Year package offered by Banyan Tree Lijiang includes a stay of 2 nights at the Jet Pool Villa, daily breakfast for 2, Naxi Hotpot for 2, one-way airport transfer service, afternoon tea for 2, one 60-minute massage + 30-minute Sanctuary Spa experience for 2, priced at RMB 5,249.
Tengchong, another intriguing destination in Yunnan province, celebrates Chinese New Year in customs similar to Han Chinese traditions but with a local twist. A typical celebration here involves rituals such as sending off of the Kitchen God, welcoming in the Heaven God, giving offerings and eating palm buns. Palm buns, made with palm flower buds stuffing, is a must-have dish on the Lunar New Year's eve reunion dinner and a unique local tradition. On the first day of the new year, apart from setting off fireworks and opening the gate of fortune, it is also an important tradition to eat local rice noodle Ersi to usher in an auspicious year. Tengchong Lantern festival kicks off on the first day of the new year and runs for 16 consecutive days, expect a sea of colorful paper lanterns hung all over the place, and don't forget to visit Fengshan Camellia Garden and Baofengshan Park to admire the plum blossoms and blooming camellia flowers.
Angsana Tengchong offers a variety of special packages for guests to choose in Chunfeng restaurant. During the Spring Festival, guests with family and friends can have a dinner together. Waterlight Cafe Restaurant also offers buffet dinner and outdoor hot spring ticket package, just need RMB 299 to enjoy a delicious dinner and hot springs. At the same time, Angsana Tengchong also provided Spa Winter Package, allowing guests to experience a comfortable and relaxing holiday in the cold winter.
A Fresh Start in Awe-inspiring Natural Beauty
The long holiday provides enough time to travel to stunning locations, celebrate the fresh start of the new year with family and loved ones while basking in the beauty of picturesque landscapes.
Lunar New Year in Hangzhou has a special atmosphere with the mystery of spring starts to unfold in the chilly air. There are many festive events to attend: visit Lingyin Temple to pray for good fortune, admire spring blossoms in the Botanical Garden, or take a stroll around the West Lake to spot the signs of spring. Famous for its classical Jiangnan style gardens, Banyan Tree Hangzhou will be hosting an exclusive Spring Festival Fair featuring various signature culinary delights in the Snacks section, gifts and goodies in the Specialties section, nostalgic games including rubber band-skipping and shuttlecock-kicking in the Games section to relive the carefree childhood days, and a dazzling lantern corridor brimming with festivities and joy.
Usher in a prosperous New Year with exclusive dining packages at Banyan Tree Hangzhou, book Pin Yue Special set for RMB 688, or Shang Yue Special set for RMB 888.
Located on the riverbank of Lijiang, Banyan Tree Yangshuo is blessed with the spectacular backdrop of surrounding natural beauty. Warm climate means one can still admire the lush green scenery during Chinese New Year. There are many exciting activities for the whole family to enjoy: cruise along Lijiang River, explore caves and rice terraces, or learn to master the art of rock-climbing. From 27th of the twelfth lunar month, local Spring Festival celebrations move into a more intense and exciting stage, culminating with the joyful New Year's Eve dinner serving up glutinous rice wine and New Year's rice cake.
Book Festive Package at Banyan Tree Yangshuo for a minimum of 2 nights stay between Feb 14th – 16th 2018, enjoy 10% off accommodation in Pagoda Lake Suite or Imperial Retreat Villa, daily breakfast buffet, one Lijiang Bamboo Raft trip and New Year's Eve special buffet for 2.
Spring Blessing Tropical Island Style
Spring Festival doesn't have to be spent in cold weather, why not take advantage of the long holiday and fly to a sunny tropical island?
Idyllic Maldives is an ideal destination to have some fun in the sea. Dive down into the world of marine life, try out challenging water sports, join a dolphin watch cruise, or participate in coral and sea turtle conservation project….. so many ways to create an unforgettable Spring Festival holiday. Banyan Tree Vabbinfaru and Angsana Ihuru have crafted New Year's Eve dinner menus for guests staying during Spring Festival, while Angsana Velavaru will be presenting the fantastic Lion Dance performance to bring in good luck in the new year.
Chinese New Year's Eve dinner menus at Banyan Tree Vabbinfaru and Angsana Ihuru are priced at USD 65 per person.
At Banyan Tree Phuket, a tropical fairy tale just a stone's throw away from  Bangtao Beach on the treasure island of Andaman Sea, and the cliff top resort Banyan Tree Ungasan overlooking stunning views, guests will be pampered with warm hospitality and thoughtful service, creating a relaxing and delightful holiday. On Phuket Island, there is something for everyone to enjoy, guests can choose to participate in dynamic activities such as trekking and yoga, or relax and bask in the sun all day on the sandy beach. With its beautiful rice terraces, lush jungles, friendly people, majestic mountains and commanding ocean views, the diversity of landscapes in Bali adds more fun and excitement to the Spring Festival escape.
For more details on the above Banyan Tree new hotel openings please visit: www.banyantree.com
For high-resolution images, please click: here