Keio Plaza Hotel Tokyo (KPH), one of Japan's most prestigious international hotels located in Shinjuku, Tokyo, will host the "Princess Mermaid Sweets Buffet" in commemoration of the fairy tale written by the Danish author Hans Christian Andersen at our All Day Dining Restaurant "Jurin" from July 1 (Sunday) to September 30 (Sunday), 2018. This year's buffet will offer a wide range of colorful desserts based on the "deep blue color of the cornflower" and other various flowers specially prepared by our patissiers and patterned after various sea creatures reminiscent of characters portrayed in the Little Mermaid fairy tale.
Some of this year's delectable desserts include clams made of chocolate, "deep sea mousse" made in a colorful blue using passion fruit and pineapple flavorings, various colorful sea creatures using "mermaid gelee", soothing "muscat grape jelly" to offer relief from the summer heat, cup cakes patterned after sea anemones and decorated with starfish, pistachio flavored macrons patterned after pearl oysters, mango tiramisu using mango puree and mascarpone cheese from Hokkaido, and other delicious new desserts.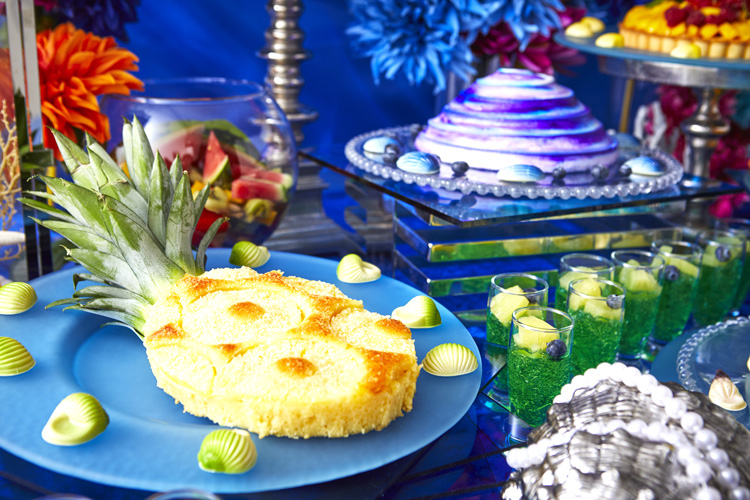 The wide variety of delicious desserts prepared by our hotel patissiers will be served on our 15 meter long counter for customers to enjoy every day from 3:00p.m. to 5:30p.m. during the event at our All Day Dining Restaurant "Jurin", which is known for its special seasonal meals based upon various fairy tales including "Alice's Adventures in Wonderland", "Beauty and The Beast" and others. These events are especially popular amongst female guests in their 20s to 30s for the highly photogenic desserts which can be used in posts on various social media. This time marks the third year that this dessert buffet based upon the theme of "The Little Mermaid" is held, and our patissiers have created new desserts for the entertainment of our guests. In addition, the Keio Plaza Hotel Tokyo will also offer a special guest plan entitled "Temptation of the Little Mermaid" until September 17 (Monday, national holiday) that includes use of our Sky Pool.
"Princess Mermaid Sweets Buffet"
Date: From July 1 (Sunday) to September 30 (Sunday), 2018
Venue: All Day Dining "Jurin"
Time: 3:00p.m. to 5:30p.m. (Last orders taken at 5:00p.m.)
Fees: JPY3,800 per adult, JPY2,600 per child (From four to elementary school age), includes drinks
Menu: Deep sea mousse, sea anemone cup cakes, mango tarts, chocolate sea shells, sea snake roll cakes, salty gateau chocolate cake, orange bread of Jane, blue berry short cake, floating ring bread, coral bread, and others
Pool and Sweets Buffet "Temptation of the Mermaid"
Date: From July 1 (Sunday) to September 17 (Monday, national holiday), 2018
7th Floor Sky Pool Hours: 9:00a.m.~8:00p.m.
Dessert Buffet Venue: All Day Dining "Jurin"
Dessert Buffet Hours: 3:00p.m.~5:30p.m. (Last orders taken at 5:00p.m.)
Pool an Buffet Plan Fee: JPY5,300 per adult on weekdays, JPY7,300 per adult on weekends, holidays (Includes on original Mermaid Cocktail)