Sentosa Golf Club, home to Singapore's iconic Serapong and New Tanjong golf courses, has further underlined its position as a world-class destination by claiming top spot as the 'World's Best Golf Club' at this year's World Golf Awards.
Beating fierce competition from a number of other famous golf clubs around the world, the award recognises the central role Sentosa Golf Club has played in strengthening Singapore's position as a hub for international tourism, showcasing the city's worldwide appeal and growing the game as a vital sporting facility.
The newly crowned 'World's Best Golf Club' has had an unprecedented amount of success recently, hosting no fewer than six globally televised golf events in just over 12 months – two SMBC Singapore Open's, two HSBC Women's World Championships, along with the Men's Asia-Pacific Amateur Championship and Women's Amateur Asia Pacific Championship.  This is an achievement unmatched by any other golf club in the world.
The 'World's Best Golf Club' award was judged by an internal panel of experts who considered a broad spectrum of factors that combine to create a club of outstanding excellence.
Sentosa was also recognised for the quality of the club as a whole, including the standard of both course designs, a pioneering commitment to environmental sustainability through its #KeepItGreen campaign, the staging of the high profile professional and amateur events, and overall ability to present two championship golf courses in first class condition all year round.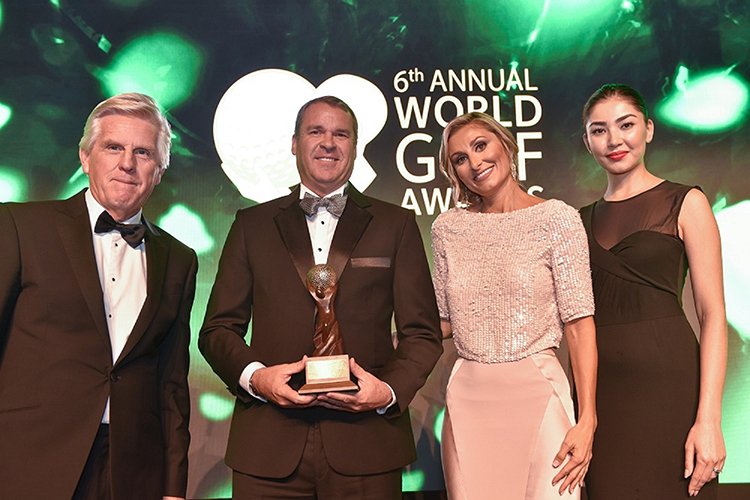 The presentation was made in front of the golf industry's biggest names in Abu Dhabi, as the World Golf Awards introduced the new award to recognise one club in the world for its outstanding quality across the board.
Overall, it was a hugely successful night at the World Golf Awards for Sentosa Golf Club with its very own Serapong Course claiming the title of 'Singapore's Best Golf Course' for the second year in a row, rounding off another great year for a club at the very top of its game. Other notable golf courses picking up awards included 2018 Open Championship venue, Carnoustie Golf Links and 2017 U.S. Open Venue, Erin Hills.
On Sentosa Golf Club receiving the awards, Sentosa Golf Club General Manager and Director of Agronomy Mr Andrew Johnston commented: "It is a huge honour for Sentosa to be recognised by The World Golf Awards as the 'World's Best Golf Club' and once again as 'Singapore's Best Golf Course'. By being bestowed with such honours, it is testament to all the hard work and dedication that goes into achieving the club's standards and maintaining two championship courses that impress both professional and amateur players from all around the world. It is achievements like this that allow Sentosa Golf Club to continually develop year on year and remain at the very top. We are very grateful to the World Golf Awards for humbling us with such an accolade."
Singapore Tourism Board Chairman Mr Chaly Mah said: "Our primary goal is to ensure Singapore remains an attractive business and leisure destination where possibilities can be realised and passion made possible. From F1 to the great golf tournaments Sentosa hosts, it's events like these that help to put Singapore in the spotlight and enhance our tourism products. And to have Sentosa Golf Club recognised with such a prestigious accolade is further recognition for this great city. Thank you to all the team at Sentosa Golf Club for their passion and hard work, which has not only made us proud, but can inspire us to reach for extraordinary new heights in trying to achieve our goals."
Sentosa Development Corporation Chairman Mr Bob Tan said: "It is an honour for Sentosa Golf Club to receive two awards at this year's World Golf Awards. We are very proud of the dedicated and hardworking team of passionate people who continually strive to make our golf courses amongst the best in the world. In doing so, Sentosa's position within the top global tourist destinations, for both local and overseas visitors, is appreciably enhanced. Congratulations and well done Sentosa Golf Club."
Singapore Golf Association President Mr Ross Tan said: "As the national governing body of golf here in Singapore, we are privileged to have the support of Sentosa Golf Club to help us develop and nurture the talent of local golfers for the future. Through a dedicated sponsorship programme, by allowing our junior golfers access to the best practice facilities Asia has to offer, as well as two championship golf courses in tournament ready conditions, Sentosa Golf Club is helping us give local golfers the best possible chance to compete on the world stage. It is no surprise to us that they have been recognised with these awards, given how committed they are to promote and develop the sport in Singapore, and all the hard-working team at Sentosa must take a lot of credit for the latest accolades."
R&A Asia Pacific Director Mr Dominic Wall said: "We have a strong association and partnership with Sentosa Golf Club and Singapore. As our Asia Pacific HQ it plays a key role in our efforts to support the development of golf, which is a specific aim of ours both in Singapore and throughout the region.  Through The Open Qualifying Series at the SMBC Singapore Open, the Asia-Pacific Amateur Championship and the Women's Amateur Asia Pacific – events hosted on Sentosa's courses, we've seen Asian players benefit from such platforms to play in major championships and experience what it feels like to rub shoulders with the world's best in tournaments such as The Open,  Masters and AIG Women's British Open. Receiving an accolade of this nature is an acknowledgement that the club deserves simply for its commitment to grow the game."
This year the Serapong Course once again played host to the SMBC Singapore Open, which was won by Thailand's Jazz Janewattananond. Next year's tournament will return in January (16th – 19th) and is set to be one of the most memorable to date, with all three current Olympic medallists, Justin Rose, Henrik Stenson and Matt Kuchar, all confirmed to attend.
The Serapong Course was designed by the world-famous golf course design firm Golf Plan and Ronald Fream, and was opened in 1982. Since then, the layout of the course has been re-altered by the Bates Golf Design Group and was the assignment of golf course architect and the club's current General Manager, Andrew Johnston. Today, its trademark contours, extended stone-lined lakes and the breath-taking Singapore harbour backdrop, make for an exquisite game that means the course is currently ranked in Golf Digest's 'World's Greatest Golf Courses'. The New Tanjong was also recently named by Golf Digest as the second-best golf course in Singapore, behind the Serapong at number one.
The World Golf Awards are voted for by leading golf tourism professionals as well as hundreds of thousands of golf consumers worldwide, serving to recognise and celebrate commitment to excellence in golf tourism.