As the world battles the coronavirus pandemic, people everywhere are currently experiencing a difficult time. To call on Hong Kong and the World to work together and stay optimistic, Canto-pop legend Sam Hui Koon-kit and Canto-pop 'Dancing King' Aaron Kwok Fu-shing held free online concerts on 12 April, 2020 and 9 May, 2020 at Ocean Terminal Deck , Harbour City respectively.
Harbour City fully supports free hour-long online concerts
Surrounded by the sea with 270-degree panorama of Victoria Harbour and overlooking the breathtaking views of Hong Kong Island and Kowloon, Ocean Terminal Deck is an iconic landmark and a tourist attraction of Hong Kong. Both Sam Hui and Aaron Kwok grew up in Hong Kong, and are amongst the most popular stars in Hong Kong and Asia. The concerts were staged on Ocean Terminal Deck, against the backdrop of the incredible Victoria Harbour skyline. Performing their greatest hits, both stars captured the beauty of Hong Kong.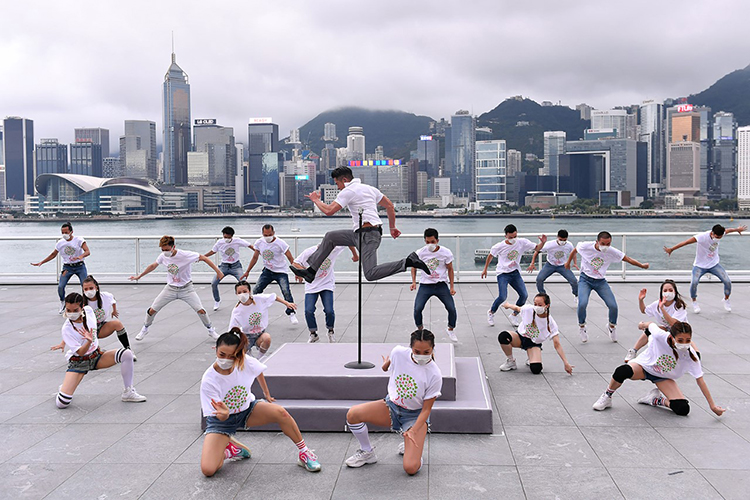 For more photos:
https://www.dropbox.com/sh/4bfc2t21aaao5lj/AAAkwqyGhF6VEwbFad-z-WB2a?dl=0
For online concerts:
HiEggo YouTube channel: https://bit.ly/2w9keRR
Harbour City YouTube channel: https://www.youtube.com/channel/UCFATknqPry6JJ7teK-7hhFg
Fully supported by Harbour City, the YouTube channel HiEggo organized "2020 Sam Hui In The Same Boat Online Concert", while Aaron Kwok Love and Concern International Charity Fund Limited, and YouTube channel HiEggo jointly organized Aaron Kwok "Cheer Up & Dance Online Charity Concert 2020". According to the organizers, Sam Hui held his first live stream concert which was broadcast for free over YouTube and Facebook, attracted around 2 million viewers (including Sam Hui's Facebook and HiEggo Facebook), while YouTube channel HiEggo attracted 550,000 viewers. The viewership of Aaron Kwok's live-streamed concert hit around 14 million viewers, over 90 channels to watch live broadcast in the world, while the concert attracted 3 million Facebook streaming viewers worldwide, and over 2.5 million viewers in YouTube channel HiEggo.
God of Cantopop spreads positivity around the World
Armed with his acoustic guitar, Sam Hui performed around 20 songs, including some of his greatest hits such as Bauhinia, Cherish, In the Same Boat, and Eiffel Tower Above the Clouds – all tributes to the affection Hong Kong people have for their city. Although he stressed that his concert was not a fund-raiser, he also donated HK$250,000 to help the staff of a music event company, Tom Lee Engineering, which has worked with him for many years.
Dancing King of Cantopop cheers up the World
Following in the footsteps of "God of Cantopop" Sam Hui's free one-hour online concert at Harbour City Ocean Terminal Deck in April, Aaron Kwok held a free one-hour concert at Ocean Terminal Deck, Harbour City in May. 80 dancers performed alongside Aaron Kwok during his dance hits, to raise funds for dancers who have been affected by the pandemic. As of today, Aaron Kwok's performance raised initially more than 4 million dollars for his charitable foundation. To support this charity project, Harbour City donated HK$1 million to "Aaron Kwok Love and Concern International Charity Fund Limited".