Hong Kong high jumper Cecilia Yeung Man-wai was amazed by JR's first GIANTS series artwork in Asia.
The 12-meter-tall "high jumper" stands tall by the Victoria Harbour, displaying the elegance of high jumping.
Cecilia praised the artwork for perfectly showcasing the gracefulness of the sport.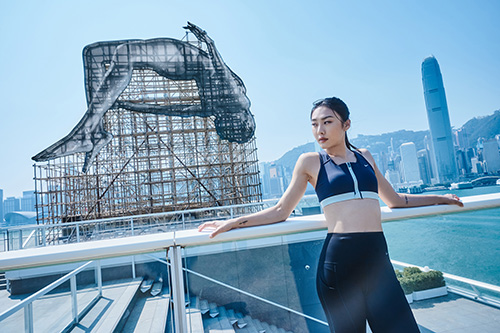 Renowned French artist JR comes back to Hong Kong after 2012 with his first towering GIANTS series artwork in Asia at the Ocean Terminal Deck of Harbour City! His latest public art installation "GIANTS: Rising Up" is on display for free until 23 April 2023. The installation captures the moment a giant high jump athlete jumps up as if floating in mid-air, looking back at the magnificent Victoria Harbour.  The 12-meter-tall installation incorporates JR's iconic black-and-white style with traditional Hong Kong "bamboo scaffolding", creating a unique artwork that is exclusive to Hong Kong.
Harbour City also invited Hong Kong's women's high jump record holder and representative team member, Cecilia Yang Man-wai, to preview the art installation and take promotional photos. Cecilia expressed her excitement and gratitude, saying, "Seeing the high jumper leap over Victoria Harbour is truly awe-inspiring! I'm honored to be the first to witness this unprecedented art installation. I'm grateful that JR chose Hong Kong and high jumping as the subject for its first GIANTS series in Asia. I hope everyone can appreciate the elegance of high jumping and the sensation of free fall!"
#HCart #HarbourCity #HCRisingUp @harbourcity @jr
To download the press release and more photos: https://www.dropbox.com/sh/lu1w0h0vsi8hpmp/AAAhbxxxkEaylCO1rzdqUPY0a?dl=0
JR "GIANTS: Rising Up" Public Art Installation @Harbour City
Date: 13 March – 23 April 2023
Time: 7am – 12am
Venue: Ocean Terminal Deck, Harbour City
Entry: Free
Customer Enquiry: (852) 2118 8666   |   Website: www.harbourcity.com.hk
Media RSVP, enquiries and interview arrangement –  Harbour City Estates Limited:
Debbie Chan                (852) 2118 8622 / 6215 5860        debbiechan@harbourcity.com.hk
Kayley Lee                  (852) 2118 6995 / 6532 3307        kayleylee@harbourcity.com.hk
Florence Man               (852) 2118 8623 / 9121 0694        florenceman@harbourcity.com.hk